Eco-Friendly Casa – Off-grid
"Are you looking for inner wisdom, pure nature and peace then our Eco-Casa Alegria y Luna is highly recommended for you!"
Our Casa is located in the heart of the natural park Karst y Yesos of Sorbas, with its unique cave complex in Europe. Tucked between the beautiful mountains of Sorbas, just a fifteen minute drive from Mojacar and the Mediterranean Sea. Our Casa is not so far from Cabo de Gata, the national nature park of Almeria with its idyllic beaches, such as Playa Los Muertos. We have an old round circle in the garden, the Era where you can enjoy the beautiful view of the olive groves and the mountains.
We use solar panels for electricity and we have water from our own well.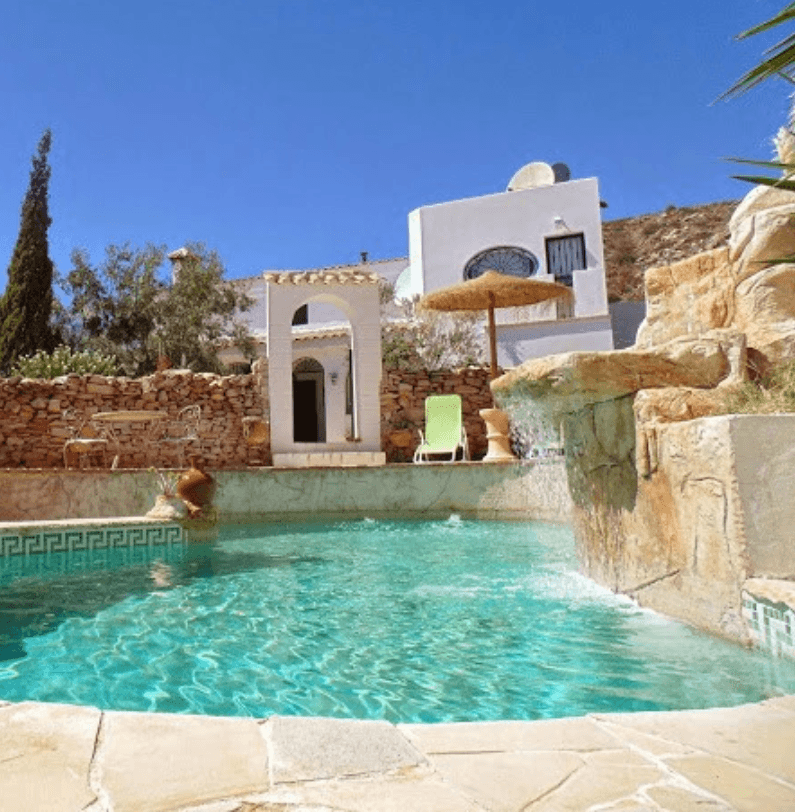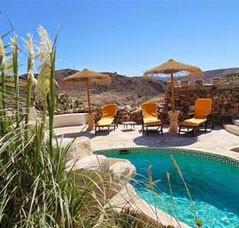 Pool area
Healthy Snacks
Cabo de Gata
We ❤ our doggies
Living
Lazy afternoons
Casa Alegria y Luna
Our Casa is not so far from Cabo de Gata, the national nature park of Almeria with its idyllic beaches, such as Playa Los Muertos.
Around our Casa are many beautiful places to relax, to meditate with the stars or to completely separate yourself in our Tipi or Yurt.
The perfect place to write a book, compose music or
give a creative course to other guests.
If you want to enjoy a relaxing holiday, Casa Alegria y Luna is the place you seek, surrounded by nature, far away from the chaos of the city.
We have three cozy decorated rooms with their own theme.
Unwind in the true magic of the unspoiled nature in the deserts of Almeria
Guest Reviews
What our previous guests say …
"We had an amazing stay at Casa de la luna, Inneke was a brilliant host with lots of information on the local area. The views are unbelievable and the whole place is just very special. We wish we had more than 2 nights there. Definitely recommend!"
"The house is so beautiful and clean with mountain views , with 2 very special hosts inneke and jose, for those who want to find peace, love nature and animals, this is the perfect place to go! PD: their dogs are super friendly."
"Dear Inneke and José, Thank you again and again for this wonderful time at this special place on earth! We will never forget! This place is magic and no words can describe the feeling there. Hope we can make it possible to visit you one more time and stay longer than three nights. Just amazing … Lots of kisses and hugs to you."
"Inneke and José where perfect hosts. I stayed alone for 10 days and felt Casa Alegria y Luna as a second home. Sorbas was warm, peaceful and beautiful. The perfect place to relax and meditate."
What you Get
Amenities, Services, & Travel Guide
Casa Alegria y Luna is an ecological house. We use electricity from our solar panels and water from our water well.
Adults only: To offer our guests total peace and comfort we welcome children from the age of 14 years and up.
Visit our peaceful Eco casa
Eres muy bienvenido
If you love the silence of the mountains, view the beautiful starry sky or meditate in our Tipi, then you can relax here.
A magical place …